We Shred 4 u
Our offsite shredding service is totally confidential and we are committed to service excellence. At present we are not offering onsite services.

Our clients in the South of England, including Portsmouth, Hampshire and South London, find our secure service efficient and competitively priced.

Our work spans large industrial businesses down to private homes, ensuring that your private documents are securely taken away, stored (in necessary), and shredded when you choose.

We can shred and remove all types of paper documents that need to be securly destroyed.
You will be surprised just how little it costs to be sure that your documents are destroyed...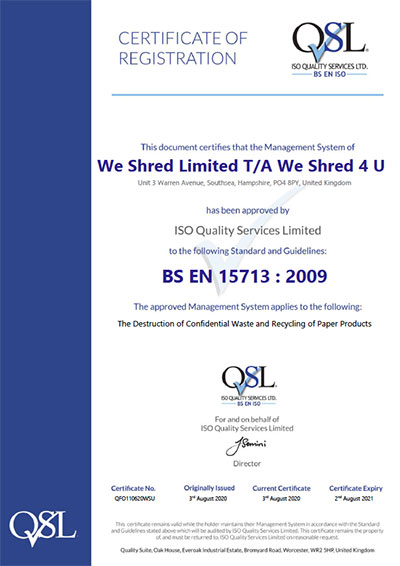 Fully approved by ISO Quality Services Limited.
Click here to view
"We are a motivated and dynamic INDEPENDENT company, not an impersonal national organisation"